No more fussing and fighting over scheduling meetings. Meet xdotai's Amy Ingram and Clara Labs, they are new apps that function as a human-like "Artificial Intelligence (AI)" personal assistant who schedules meetings for you and make sure you don't forget your important appointments. They work with different kind of mail applications like Exchange, outlook.com or Gmail. You Cc Amy or Clara your meeting request with a person, then they take over the dialog with that person and find an agreement about the meeting time. For those who don't like the name, it is possible to change this. Clara and Amy don't want to replace human jobs with technology. But they can save a lot of time.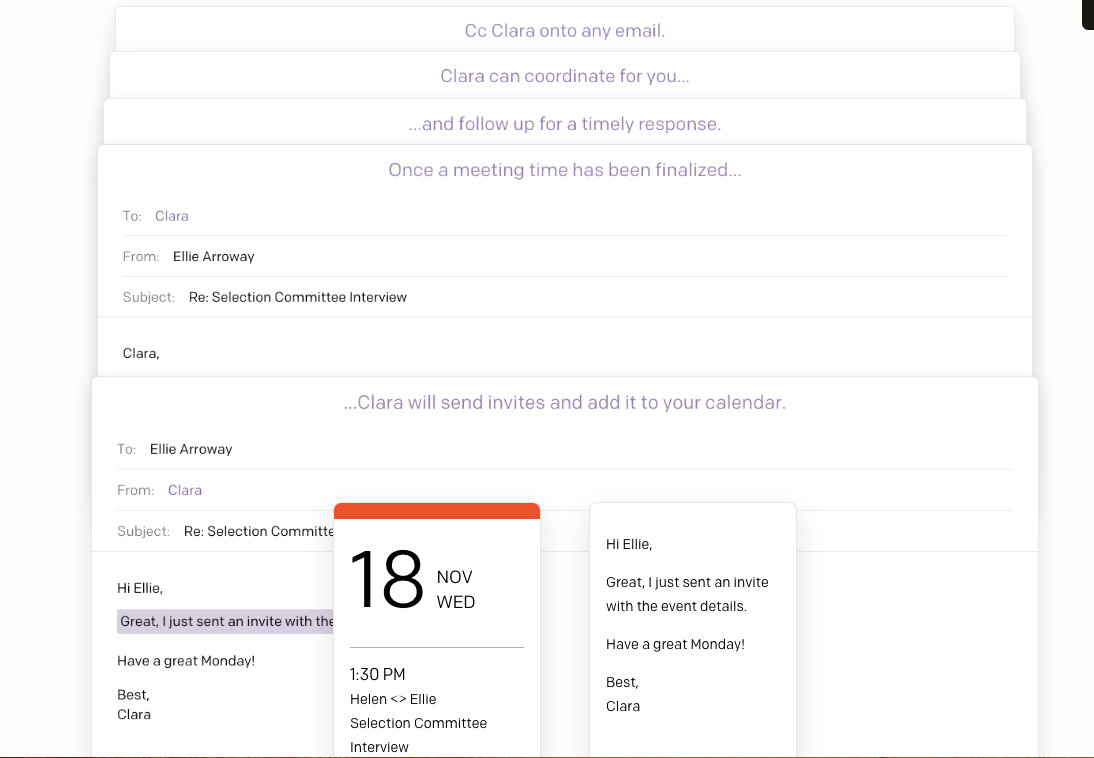 – An e-mail example of how Clara works
In addition, if you want to take convenience a bit further, let Wordzen make you look like a literary expert by writing your e-mails. The Wordzen browser plug-in is currently only available for Chrome and Firefox. This executive assistant prevents you from making horrible grammatical mistakes in your emails. Program working as live editor is standing by to turn your shorthand instructions into professional emails, edited, proofread and ensuring better English, if this is necessary.
Significantly, Wordzen, Amy and Clara are fascinating due to the fact that they are becoming smarter, faster every day, because they are constantly trained on more data. They use AI to make system smarter. Another interesting point is that they don't have any interface, but they use your email interface as a presentation layer. It is interesting that they can save time and money because they don't have to develop a graphical interface.
Wordzen, Amy and Clara, are the ideal personal assistants that make you fall in love with them, save you time and organize your meetings and agenda. These apps make the most time consuming parts of scheduling easy.