De opslagcapaciteit van dit glazen schijfje, 360 terabyte, is nog niet eens zo spectaculair. Bij een niet nader te noemen elektronica-gigant koop je externe schijven van 3 TB voor minder dan €200 per stuk. Maar gecombineerd met de afmetingen en vooral ook de duurzaamheid, is dit schijfje toch wel bijzonder. Het is bestand tegen temperaturen tot 1000 graden celcius en kan bij kamertemperatuur naar verwachting 14 miljard jaren mee [1]. Daarmee lijkt deze technologie uitermate geschikt voor het bewaren van belangrijke archieven van bijvoorbeeld musea en bibliotheken. En zou er iemand al zo'n grote dataset hebben? Misschien nu nog niet, maar dat kan in de komende jaren best komen.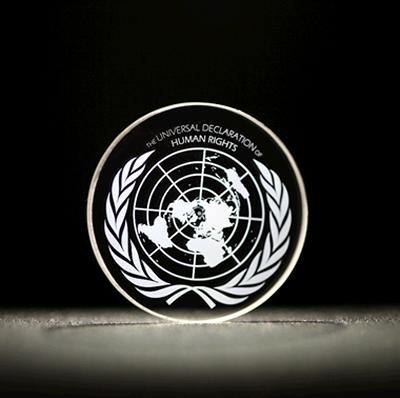 Foto: Southampton.ac.uk: Universal Declaration of Human Rights opgeslagen in 5D optische data. Het schijfje is ongeveer zo groot als een twee-euromunt.
Het glas wordt beschreven met een ultra-fast laser. De laser creëert 5D nanostructuren in het glas. We kennen allemaal 3D (de dimensies lengte x breedte x hoogte), de andere dimensies komen van de omvang en richting van de afzonderlijke structuren. Het uitlezen gebeurt met een optische microscoop en polarisatiefilter (denk: Polaroid zonnebril) [2].
Het klinkt eenvoudig, maar dat is het waarschijnlijk niet. Wetenschapper Peter Kazansky van de University of Southampton (UK) is met zijn collega's al 15 jaar bezig met deze technologie, die nu is bewezen door onder andere de Universal Declaration of Human Rights (UDHR, zie foto), Newton's Opticks en Magna Carta op schijf te zetten. Er wordt gezocht naar partners om de technologie productierijp te maken [2].
Bronnen:
[1] http://www.sciencealert.com/this-new-5d-data-storage-disc-can-store-360tb-of-data-for-14-billion-years
[2] http://www.southampton.ac.uk/news/2016/02/5d-data-storage-update.page