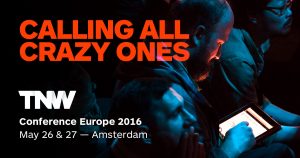 The 11th annual TNW Conference Europe took place on May 26 & 27 in Amsterdam. Described, as "The most intimate technology festival on the planet" by CNBC, over the years TNW Conference has become one of the leading technology events in the world. It's organized by Dutch based online media company The Next Web and brings promising startups, investors, technology gurus, innovators and entrepreneurs together. It's a great place to share their thoughts about the future of technology, marketing, talk about design or for networking, to get inspired or to boost your imagination.
---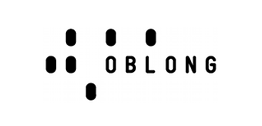 John Underkoffler, founder and CEO of Oblong Industries talked about the new UI (User Interface) as professional power-the future of workspace technology. He is actually the guy who designed the futuristic and advanced UI for the film Minority Report 14years ago (!)
For the last 30 years, the UI (user interface) has changed a little. We live in computational world that becomes more and more complex.
UI is all you have; UI is the computer, because without UI you can't control the CPU or GPU of your computer.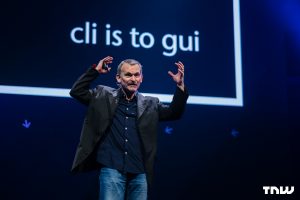 John Underkoffler shared with us his "Eight easy pieces", his vision for the future of UI.
Let's explode the displays- what will happen if every set of pixels wasn't bound by the physical rectangle?
G –speak – Minority Report alike system without the visual effects
Distributed (everything) – extend the UI of the edge of one screen to the next one if they are close enough. Expect border free UI's
Bidirectional glyphs – get more expressive with the UI elements. We need to know where we are, what the machine thinks we are doing and where we might go.
Cinema as input/output device – cinematic heresy or the future of editing? A metaphor for how powerful UI should make you in the context of all your digital data.
Cognition at architectural scale – see more through the right scale. Build computers small or big, as we need!
Time to reinterpret – Minority report reinterpreted. With a proper UI a team of collaborators can achieve much more, work faster and better.
Make UI an exoskeleton, an extension of the human will.
Oblong built a system called Mezzanine that uses all eight principles mentioned above. Mezzanine changes how people work together by making the workspace more collaborative, easily sharable and scalable.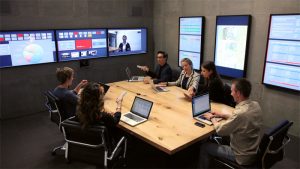 "We want to build systems based on principles of humanity that can enhance your attention, amplify human meaning and get out what people are best at which is making new things and building the world the way it ought to be."
The whole presentation is now also available on YouTube
Photo credit:TNW, Oblong