Finding open access article versions of the ones behind the paywall seems pretty easy with Google Scholar. Yet, with a new identifier, the oaDOI (https://oadoi.org), Impact Story promises going beyond Google Scholar for articles with a DOI.

Short history: last summer Impact Story, one of the main players in altmetrics, challenged everyone to make a profile on their website and check out their "openness" by introducing a new OA badge.
In their effort to complete the profiles with open access output, Impact Story made a workaround Google Scholar in order to find any free full-text for a paper with a DOI. They search in specific sources like DOAJ, DataCite, CrossRef's database and the BASE OA Search Engine and institutional  repositories, plus in their own list of DOI indexes and even in the articles page itself for a link to a free version [1].
In practice, after testing the oaDOI with multiple articles from behind the paywall, I found out it comes down to luck to find  an open access version which Google Scholar does not find.
We don't know how long it will take Google Scholar to take over, but the great news about the oaDOI is that, unlike Google, it's open: it has a versioned open API to build upon it.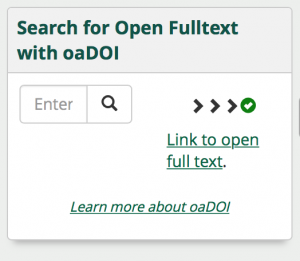 By now, Zotero is searching by oaDOI, Max Plank Digital Library is experimenting with its SFX lookup service for DOI using an oaDOI and Wayne State University Library has introduced a widget to search oaDOI [2].
---
See also http://impactstory.org/u/someones_orcid and see the number of OA publications that someone has, with a percentage of "openness" added to his Impact Story profile.
---
References: