Cambridge University Library's FutureLib team is behind a really cool new tool: SpaceFinder. It is a web app that helps students (& staff) find the right space for the right moment. Are you looking for a quiet relaxed place with coffee, wifi and some background noise? Or do you need to book a cozy group room for team work with a whiteboard? Just use the filters to select your preferences and needs and Spacefinder will show you where to go on the interactive map.
It's nice that a wide range of different locations is considered: spaces on and off-campus, cafes, pubs, libraries and reading rooms. There are over 130 locations with new ones still being added. Address info and opening hours are at your fingertips and yes! the responsive design also works on your phone. For each location, you can add tags or tips. This way, the library is hoping for constant feedback about the spaces, which can be used to adapt, improve or evolve the spaces according to the users' needs.
Try it yourself at https://spacefinder.lib.cam.ac.uk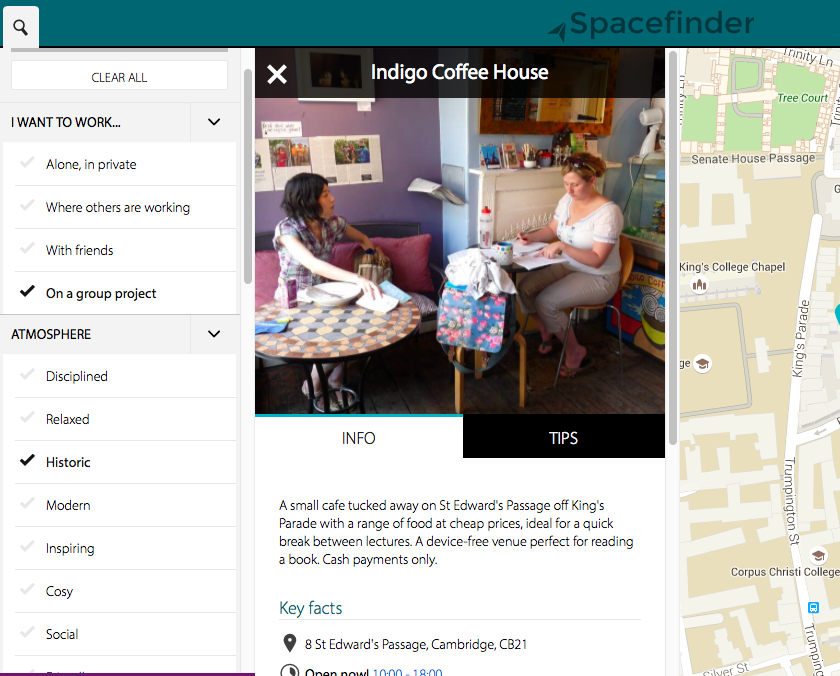 This version of Spacefinder evolved from a prototype. There are plans to add many more spaces, not just publicly available spaces, but to work towards a quick launch, the FutureLib team decided to start with the basic functionality: a minimum viable product as it is called in lean development methodology.
Wouldn't it be nice to have something like this in Delft?
Source: blogpost from FutureLib at https://futurelib.wordpress.com/2015/10/10/that-i-like-the-launch-of-spacefinder/