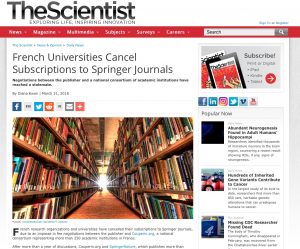 In the online version of The Scientist magazine I came across an article with the title "French Universities Cancel Subscriptions to Springer Journals" by Diana Kwon.
Couperin.org (the French national consortium representing more than 250 academic institutions in France) cancelled their subscription to Springer Journals because of the proposed price increase by the publisher.
This news comes to many as no surprise "after 13 months of a fierce negotiation with SpringerNature and the continuous increase in the share of articles published as open access makes it difficult to maintain a policy of increasing subscription costs," according to the statement.
Last year major German Universities cancelled their Elsevier contracts. Library consortia from Finland and South Korea did reach an agreement with Elsevier recently, but after heavy negotiation, according to the article.
Which national library consortia will follow the example of the French and German colleagues seems an obvious question.
Read the full article here.
Read also: Major German Universities Cancel Elsevier Contracts