Three Dutch Universities (Radboud University, Wageningen University and University of Twente) developed a large Citizen Science project, "Proeftuin" Citizen Science, by opening their labs to the mobile sensor industry [1].  It seems to be a smart solution that responds to the needs of collaboration between industry and academia, that was possible with European funding (ERDF – European Regional Development Fund). The Citizen Science Lab from Radboud University, launched in the beginning of July, started as a collaboration with five small to medium size enterprises, "but companies all over the country are welcome" says Jeroen Jansen, from the Department of Analytical Chemistry from Radboud University [2].
The mobile sensor industry is a good partner as it's developing in a fast pace due to the urge to increase life quality by measuring or improving the functionality and usability of things around us (Internet of Things) and by monitoring our activities for our own well-being. There are already Citizen Science projects worldwide trending, as mentioned by Chandra Clarke, in her post on Citizen Science predictions [3] and people become more and more interested in the subject (see trends on Google Trends below).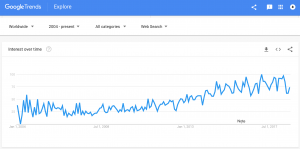 What is new about it is that, while in standard Citizen Science projects the problem comes from the university side and the solution requires large collaborations and input from amateur scientists – see earlier posts on the matter  [4, 5] – in this case, the need could very well come from the industry and the universities would offer the resources and necessary expertise and the platform to launch Citizen Science projects for working out the solution. A win-win-win situation!
It seems a very ingenious way to open the doors of the universities' "gardens" and invite people in to experiment with the available science & technology but also to make bridges between the academia, the industry and the society.
---
References
[1] The Economic Board,  https://theeconomicboard.com/proeftuin-citizen-science-voor-smart-sensing/, accessed 13th of August 2018
[2] Radbout Recharge, blogpost More accurate measurements thanks to innovation lab https://www.radboudrecharge.nl/en/article/more-accurate-measurements-thanks-to-innovation-lab, accessed 13th of August 2018
[3] Digital meets Heritage, blogpost Citizen Science predictions of the Digital Era, http://www.digitalmeetsculture.net/article/citizen-science-predictions-of-the-digital-era/, accessed 13th of August 2018
[4] Library Trends, blogpost Citizen Science closing knowledge gaps, https://trends.tudl.tudelft.nl/2016/03/29/citizen-science-closing-knowledge-gaps/
[5] Library Trends, blogpost Burgerwetenschap, https://trends.tudl.tudelft.nl/2016/07/01/burgerwetenschap/