Ik wist dat het bestond, natuurlijk. Maar opeens was het overal: Snapchat in nieuwbrieven, blogposts, op het OCLC congres, in de krant, in gesprekken. Meestal samen met Instagram genoemd in de context van "the next big thing" op het gebied van social media. Instagram kennen we inmiddels wel, al is het maar van de "vette" foto's die tegenwoordig op de monitor bij de personeelsingang voorbij komen. Snapchat is hot & happening, dus een onderzoekje waard.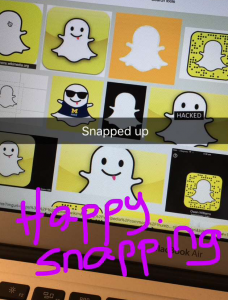 Met Snapchat kan je foto's of video's van max 10 seconden naar één specifiek contact of naar al jouw volgers sturen. Je kan de beelden bewerken door er op te tekenen of er teksten en emoticons of stickers aan toe te voegen. Je kan ook foto's en video's bundelen in een verhaal (story). Wat maakt Snapchat uniek? De Snaps (stories, foto's en video's) die je stuurt worden na het bekijken gewist. Hebben de ontvangers of volgers de Snaps 24 uur na het publiceren nog steeds niet gezien? Pech. Na 24 uur verdwijnen je creaties in de cyber-prullenbak. En dat is eigenlijk best wel fijn, want dan ben jij al weer wat anders interessants aan het doen waar je over kan snapchatten. Naast het chatten met beelden, kan je ook "gewoon" met tekst chatten met je volgers zoals je bij WhatsApp doet.
Wat Snapchat naast het vluchtige karakter nog meer zo populair maakt, is dat je de foto's en video's in de app maakt, dus zonder de mogelijkheid gebruik te maken van editing tools, mooimakerij of professionele apparatuur. Het gaat bij Snapchat niet zoals bij Instagram om het mooie plaatje, maar om het moment. De tekenstift en stickers nodigen uit om jouw creativiteit te botvieren op een laagdrempelige manier: het mag er uit zien als een kleutertekening (maar het hoeft niet, je kan zelfs echte Snapchat-kunstenaars volgen!).
Inmiddels bestaat Snapchat al een jaar of vijf en na een tijdje vooral populair te zijn geweest onder jongeren, beginnen nu de marketingmachines van bedrijven en organisaties en ja, ook hogescholen en universiteiten (HvA en UT) met Snapchat om hun doelgroep te bereiken. Je kan ook het NOS journaal, Ajax, CNN, Rihanna, Lil' Kleine en waarschijnlijk je neefje van 12 volgen. Inmiddels hebben meer dan 2 miljoen Nederlanders een account. Ik nu ook.
Mijn eigen ervaring? Snapchat kijkt – met toestemming – wie van jouw contacten ook een Snapchat account heeft. In mijn geval waren dat mijn tiener neefjes en nichtjes, jonge meiden van modern-jazz les en één collega. Ik heb wat crea-foto's de wereld in geslingerd, maar moet duidelijk nog even wennen. Is er iemand in de Library die een Snapchat-experimentje met mij wil aangaan?
Geraadpleegde bronnen: