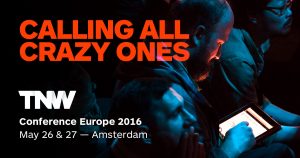 The 11th annual TNW Conference Europe took place on May 26 & 27 in Amsterdam. Described, as "The most intimate technology festival on the planet" by CNBC, over the years TNW Conference has become one of the leading technology events in the world. It's organized by Dutch based online media company The Next Web and brings promising startups, investors, technology gurus, innovators and entrepreneurs together. It's a great place to share their thoughts about the future of technology, marketing, talk about design or for networking, to get inspired or to boost your imagination.
---

Julie Zhuo from Facebook talked about how to build new products and services with creative confidence. That can be a real challenge even for big company like Facebook.
There is no book with instruction how to build the perfect product but they've learned a lot from their successes and failures.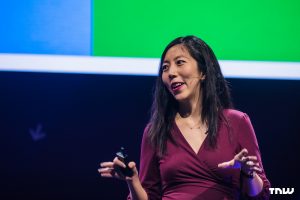 Facebook developed a simple framework consisting of 3 questions, which they use for reviewing new products.
The first question is:
What people problem are we trying to solve?
To answer this we need a people problem statement but coming up with a good one is not that easy. The good people problem statement must be:
Human, simple, straight forward;
Solutions free; – to avoid bias
It's shouldn't be about us (Facebook) winning.
Gets at the why;
Functional, emotional, social.
How do we know this is a real problem?
What evidence do we have? Is it worthwhile to solve?
How do we know if we solved the problem?
Define measurable goals and metrics.
Julie shares interesting inside fact: There are posters on the walls in Facebook HQ that says, "Nothing at Facebook is somebody else's problem"
"It reminds us that if something doesn't work well, we can't wait. We must take action to develop solution to fix that problem." said Julie Zhuo.
The whole presentation is now also available on YouTube
Photo credit:TNW